hostforlifeasp.net, a leading Windows hosting provider with innovative technology solutions and a dedicated professional services team proudly announces new Data Center in Frankfurt (Germany) for all costumers. HostForLIFE's new data center in Frankfurt will address strong demand from customers for excellent data center services in Europe, as data consumption and hosting services experience continued growth in the global IT markets.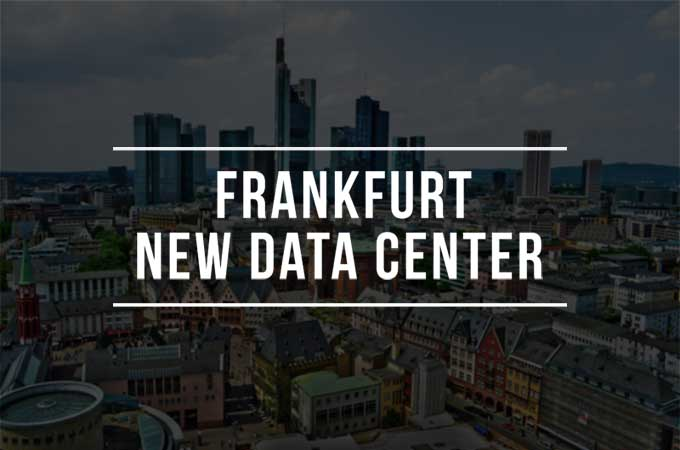 The new facility will provide customers and our end users with hostforlifeasp.net services that meet in-country data residency requirements. It will also complement the existing hostforlifeasp.net. The Frankfurt (Germany) data center will offer the full range of hostforlifeasp.net web hosting infrastructure services, including bare metal servers, virtual servers, storage and networking.
hostforlifeasp.net expansion into Frankfurt gives them a stronger European market presence as well as added proximity and access to hostforlifeasp.net growing customer base in region. hostforlifeasp.net has been a leader in the dedicated Windows & ASP.NET Hosting industry for a number of years now and we are looking forward to bringing our level of service and reliability to the Windows market at an affordable price.
The new data center will allow customers to replicate or integrate data between Frankfurt data centers with high transfer speeds and unmetered bandwidth (at no charge) between facilities. Frankfurt itself, is a major center of business with a third of the world's largest companies headquartered there, but it also boasts a large community of emerging technology startups, incubators, and entrepreneurs.
Our network is built from best-in-class networking infrastructure, hardware, and software with exceptional bandwidth and connectivity for the highest speed and reliability. Every upstream network port is multiple 10G and every rack is terminated with two 10G connections to the public Internet and two 10G connections to our private network. Every location is hardened against physical intrusion, and server room access is limited to certified employees.
All of hostforlifeasp.net controls (inside and outside the data center) are vetted by third-party auditors, and we provide detailed reports for our customers own security certifications. The most sensitive financial, healthcare, and government workloads require the unparalleled protection hostforlifeasp.net provides.
Frankfurt (Germany) data centres meet the highest levels of building security, including constant security by trained security staff 24×7, electronic access management, proximity access control systems and CCTV. hostforlifeasp.net is monitored 24/7 by 441 cameras onsite. All customers are offered a 24/7 support function and access to our IT equipment at any time 24/7 by 365 days a year. For more information about new data center in Frankfurt, please visit http://hostforlifeasp.net/Frankfurt-Hosting-Data-Center

About hostforlifeasp.net
hostforlifeasp.net is an European Windows Hosting Provider which focuses on the Windows Platform only. hostforlifeasp.net deliver on-demand hosting solutions including Shared hosting, Reseller Hosting, Cloud Hosting, Dedicated Servers, and IT as a Service for companies of all sizes.
hostforlifeasp.net is awarded Top No#1 SPOTLIGHT Recommended Hosting Partner by Microsoft (seehttp://www.asp.net/hosting/hostingprovider/details/953). Our service is ranked the highest top #1 spot in several European countries, such as: Germany, Italy, Netherlands, France, Belgium, United Kingdom, Sweden, Finland, Switzerland and other European countries. Besides this award, we have also won several awards from reputable organizations in the hosting industry and the detail can be found on our official website.