In previous article, we have explained 6 types of Malware that can damage your site. In this article, we will advise few tools to detect malware on your site.
Website users are increasing along with the increasing number of internet users in the world. As a result, the number of digital threats has increased, including malware on websites. A website that has experienced a malware attack will be infected, and unfortunately the presence of malware is difficult to detect. However, there are at least seven powerful tools that you can use to detect malware on your website.
Usually, websites affected by malware will be automatically blacklisted by search engines such as Google. If this happens, then your website traffic will continue to decrease and it can hurt you, especially if you use the website as an online store. On the other hand, those of you who use a website as a blog or want to catch up on SEO rankings will find it difficult because your website is automatically blocked by Google.
7 Tools to Detect Malware
In order to avoid unwanted things from happening, there are several tools that you can use, both for detection and cleaning of malware on the website. There are several online tool service providers that you can use to detect the presence of malware on your website, some of which can be used for free!
Here are 7 online malware detection tools that can be used to check for malware on a website:
1. Sucuri Sitecheck
Sucuri is quite famous when it comes to securing WordPress websites, let's call it the Sucuri Security plugin which is available free on WordPress. But apart from that, it turns out that Sucuri also offers free malware detection services for your website which can be accessed from the Sucuri Sitecheck page.
Carrying the tagline "Real people. Real security. " Sucuri offers protection against various attacks on WordPress. After detecting the presence of malware on your website, you can activate the Sucuri Security plugin on WordPress. See a more complete discussion about Sucuri from the article "Sucuri: Effective Protection Against Attacks on WordPress".
2. Is It Hacked
Having a simple interface is very helpful "Is It Hacked?" to quickly analyze websites. You only need to enter the domain name you want to detect, then click "Check your site" as shown below.

3. Mozilla Observatory
The Mozilla Observatory is a collection of tools for checking website health. Because, in addition to the analysis results from Mozilla, you can also find analysis results from third-party sites. But don't worry, you can change these settings before doing the analysis by checking the "Don't scan with third-party scanners" option.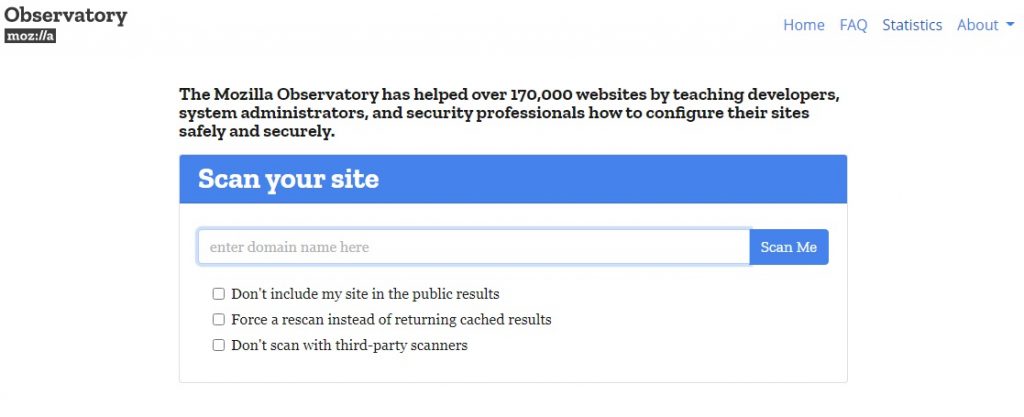 Although it cannot be used to detect the presence of malware on your website, this tool developed by a non-profit organization, the Mozilla Foundation, can help you to analyze and assess how high your website is, from security to speed. The Mozilla Observatory also summarizes data from SSL Labs and ImmuniWeb as third-parties.
4. Virus Total
Not only for websites, but this malware detection tool can also be used to detect the presence of malware in files that you have on your device. In addition, you can also use Virus Total to check if there is anything suspicious about an IP address.
This tool is one of the recommended malware detection tools, because not only is it simple in appearance and easy to use, but Virus Total is also able to analyze your website for viruses, worms, Trojans, and the like using 54 antivirus engines. You can also use this tool released in 2004 for free!
5. Quttera
This is a recommended tool that is suitable for you to use if you want to detect the presence of malware on your website. Quttera can detect malware on your website's CMS, be it WordPress, Drupal, Joomla, and so on. Apart from malware, this one tool will also analyze suspicious files, blacklist status, or external links that could potentially be a threat.
Apart from being a free malware scanning and detection tool, Quttera also offers protection and even repairs websites that have experienced malware attacks until they are listed on Google's blacklist. Apart from malware detection tools, you can also take advantage of the Quttera Malware Web Scanner plugin on WordPress.
6. Unmask Parasites
Unmask Parasites is Sucuri's beta version tool for analyzing websites. Even though it is not yet a patent, Unmask Parasites can display more free information regarding the results of their analysis of your website. You can check any links used on your website in less than 30 seconds!
Even though it doesn't directly expose malware, you can use this one tool to check again, if you use a link that has expired, is blacklisted, or a link that looks suspicious. Apart from the main report related to the website, Unmask Parasites also presents data related to the additional tests they have performed on your website. Quite complete, right?
7. Astra Security
Using a fairly unique approach, Astra's website looks friendly with a service that is no less complete. How not, apart from detecting the presence of malware on your site, Astra Security can also help you overcome malware and protect it from various hacker attacks.
You can use this website to detect scripts that are malware, extracting cryptocurrency coins to phishing scripts. In addition, this one tool can also be used to audit website security, check blacklists, and even check spam that affects SEO. However, you need to spend starting from USD 19 to enjoy Astra's full services for one month.
Conclusion
Those are 7 tools that you can use to detect malware on your website. Fortunately, if you host your website with hostforlifeasp.net, you get Anti Malware feature from us that can help you to increase your website security.
If you want to increase the ranking of your website in search engines, not only do you need to maintain security, but website speed is also important. Therefore, you also need to learn how to speed up your website so that it not only increases traffic, but also improves the quality of the visitor experience on your website. Good luck, greetings online success!