You are a developer and you are at the top of your game. You can make bits do magical things over the web. Then, one day it happens, you hit upon a great idea. It's something that you see all kinds of need for. You've developed a killer app that you know other developers and users want. You hear about people making lots of money by starting product companies, but you aren't quite sure what you have to do. Are you ready to take it to market? Wait, it's time to do some research and see where this new venture can take you. So in this article, we'd love to share some things that you have to do before spreading the world about your application. Let's get started!

Don't Write Code
As a developer, your first instinct to solve a problem is most likely to write code.This isn't a good idea. You need to validate your idea. Another way for people to solve problem is to talk to their friends. Unfortunately, talking to your friends may not be the best thing. Your friends want you to be happy. Your friends don't want confrontation. The tendency is to not tell you something that might lead to confrontation. Bottom line, you don't get good information by only talking to you friends.
However, to get good information, you have to get out of your bubble. You must go out of your comfort zone. You must go talk to people. These people need to be outside of your circle of friends and acquaintances. By talking to people outside of your close circle, you are more likely to get accurate information.
How do you get out of your circle of friends and talk to people? There are several things that we'd suggest for you:
Start small. When you go to a restaurant and going to have some food there, go up to people's table and just talk to them. Present yourself as someone doing some market research and ask a few questions. As long as you don't take up too much of their time, less than five minutes, they'll give you some time. The key is to NOT take up too much of their time.
Take social media seriously. One unfortunate effect of talking directly to people is that it is not very scalable. You can get five or six responses until it gets as boring as can be, and you quit talking to people and go with the results. This most likely isn't enough data. Thankfully, there are other options. If you are a large company, think Microsoft's ASP.NET team, there are tools like UserVoice. UV is a great tool for communicating with a large number of users. For the startup space, there are tools like SurveyMonkey, which allows you to create questions and provides good tools that report the answers.
Now that you have created a survey, what do you do with it? You have to get it out to people that matter. You can start with your current set of contacts (Facebook, Twitter, LinkedIn, whatever). You need more people than just your contacts. There are numerous platform forums out there. LinkedIn, Yahoo!, and others have a number of forums. Ask for answers from these forums.
Making Sense of the Feedback
Getting data from the previous ideas is a great point to start from. The best information is gathered from those that are willing to pay. If you have contacts at a company that wants something, and they are willing to pay for these features, it can make sense to put a lot of weight on this feedback.
As you work through getting this feedback, there are several things that you have to understand:
Many times, customers don't know what they need. They only know that they have a problem. You need to spend time figuring out what the problem is that you need to solve in order to provide value to the customer. As you are providing value to the customer, you need to continually think about how their needs are common across an industry. Don't just think about taking a few customers' problems and solving them, but think about how those solutions can be scaled across many customers.
Solving problems isn't about doing exactly what customers want. We are all brought up on the line, "The Customer is Always Right." That is just not true. You are not a waiter in a restaurant. You need to work on crafting a solution to their problem that works for them and is also scalable across multiple users/customers.
Some people will say that it is worthless to talk to the end user, because they don't know what they want, so they will point you in the wrong direction. That is just crazy talk. Customers may not be able to tell you exactly what they want, but they can talk to you about their problems. Just as you aren't a waiter in a restaurant taking an order, also remember that you are an entrepreneur trying to add value to customers in a scalable way. You take the customers' problems, separate the individual problems from the industry-wide problems, figure out what you can build that is scalable across customers, and work from there.
Hope that this article will bring some insight for you!
Looking for ASP.NET Hosting on European Server? We can help you a lot!
hostforlifeasp.net is European Windows Hosting Provider which focuses on Windows Platform only. We deliver on-demand hosting solutions including Shared hosting, Reseller Hosting, Cloud Hosting, Dedicated Servers, and IT as a Service for companies of all sizes. We have customers from around the globe, spread across every continent. We serve the hosting needs of the business and professional, government and nonprofit, entertainment and personal use market segments.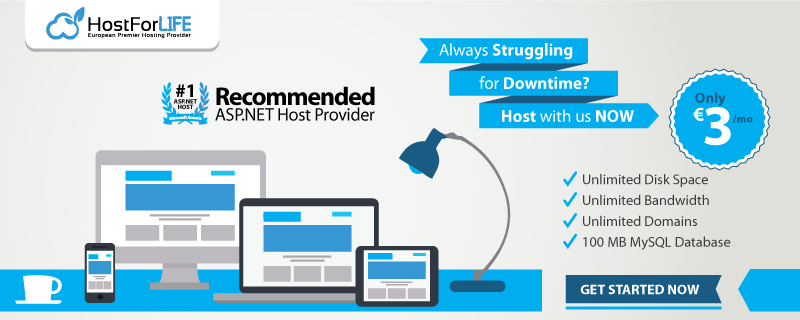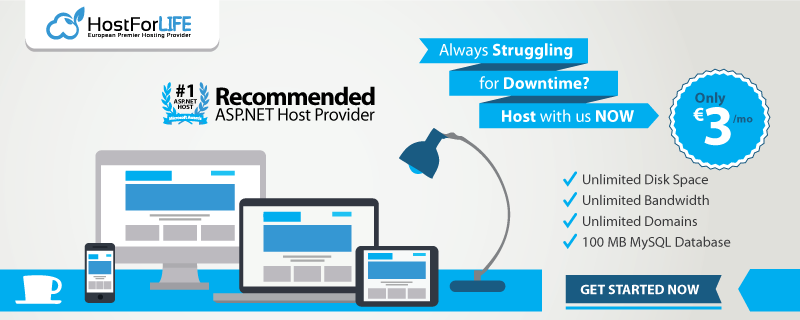 hostforlifeasp.net is awarded Top No#1 SPOTLIGHT Recommended Hosting Partner by Microsoft. Our service is ranked the highest top spot in several European countries, such as: Germany, Italy, Netherlands, France, Belgium, United Kingdom, Sweden, Finland, Switzerland and other European countries. Besides this award, we have also won several awards from reputable organizations in the hosting industry and the detail can be found on our official website.
Latest posts by hostforlifeasp.net
(see all)